Looking for Wisdom is one year old. And what a year it has been! From the rainforests of Amazonia to the giddy heights of Plato's moral imagination.
How can that have happened so quickly? Somehow, over the strange, time-warped oddness of the previous year, it seems that Looking for Wisdom has reached its first anniversary. It was almost exactly a year ago that I published the first Philosophy File here on the website. So in this month's newsletter, I thought I'd share a round-up of some highlights from the last year.
But first, to mark the one-year anniversary of Looking for Wisdom, I'm excited to announce a new series of subscription plans, so you can deepen your philosophical knowledge and support the long-term growth of Looking for Wisdom.
---
New subscription plans
Free Subscribers get free access to Philosopher Files for life.
Supporters get access to the Agora community forum in exchange for a small donation to support the long-term growth of Looking for Wisdom ($6/month or $60/year)
Members get access to our Agora community forum, and to our monthly Sunday Salons via Zoom ($16/month or $160/year). Up to the 7th November, we're offering 25% off annual membership plans with our Birthday Bonanza, which works out at $10 a month!
And finally, Patrons ($26/month or $260/year) get all the above, plus our unending gratitude, and as a bonus, an annual one-on-one philosophy chat with Will via Zoom.
---
Philosophy goes global
One of the pleasures of the previous year has been diving into more globally diverse philosophical traditions. I've covered philosophy from China and from India, from Europe and from Mesoamerica. And there's lots more of this to come over the coming months!
There's some great work going on at the moment exploring global philosophical traditions. I've recently been reading about Maori philosophy and about indigenous philosophies of Amazonia (see below). And most recently, it's been great to be in touch with Hosanna Fukuzawa, who is writing about the philosophy of the Ainu of Japan in his fascinating newsletter.
Have a read of Hosanna's recent blog post, and find out why for the Ainu, "Kanto-orowa-yaku-saku-no-a-rankep-shinep-ka-isam", or "every being has a purpose." And while you are over there, subscribe for regular updates.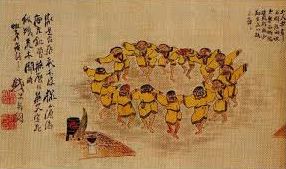 ---
Highlights of the year
One delightful thing over the past year has been interviewing philosophers about their work. I've talked to Anna Ezekiel about the fascinating Karoline von Günderrode, and how to make philosophy more interesting. Alexus McLeod's interview on Maya philosophy continues to resonate with me for its broad, generous approach to thinking. And finally, I interviewed Sophie-Grace Chappell about her insights into Plato and the moral imagination.
This year also led me down a few rabbit holes. I was delighted to find the following story about Plato's beef with Aristotle, taken from a Persian text:
And I was enchanted by these Confucian cats.
Finally, this philosophy of love and conviviality from the Amazon rainforests has a universal appeal.
---
Sunday Salons!
A couple of months ago, we started our new series of Sunday Salons for members, patrons and occasional guests. The salons take place at 5pm UK time, on the first Sunday of the month. If you are a member or a patron, you will get an invite to the salon sent to your inbox, and you can just log on via Zoom. They're friendly, accessible and lots of fun!
If you want to just call by and join a salon on a one-off basis, then have a look here, and find out how to book.
---
Hello, Strangers!
Meanwhile, in the summer, my book of philosophically- and anthropologically-tinged stories about our relationships with strangers, Hello, Stranger: How We Find Connection in a Disconnected World was published by Granta Books.
The book has had lovely reviews in the Guardian, the Sunday Herald and elsewhere, and was featured as BBC Radio4's Book of the Week back in August. The paperback is out soon. But if you want to get the super-handsome hardback, here's the link.
---
Looking for Wisdom joins Wind&Bones
Looking for Wisdom is now a part of Wind&Bones CIC, a social enterprise committed to creative writing and thinking and social change. This puts the site on a much firmer institutional footing. Wind&Bones is run by Looking for Wisdom's very own Dr Will Buckingham, and by Dr Hannah Stevens. As an organisation, Wind&Bones has worked all round the world running creative workshops.
As a part of Wind&Bones, we're hoping to run some face-to-face events in the coming year, Covid-19 permitting. We've also been running free courses in philosophy and creative writing with students in post-Coup Myanmar at Parami University, so we've been kept busy.
---
Looking ahead!
So that's about it! Over here at Looking for Wisdom things are just hitting their stride. In the coming year, we will be exploring more intriguing philosophy, running more Salons, and making more connections. There are some exciting new Philosopher Files lined up, more philosopher interviews, and we're brewing up some more fun ideas for Sunday Salons.
But to sign off, I want to thank you so very much for your support — moral, philosophical or financial — over the previous year. Running Looking for Wisdom has been ridiculous amounts of fun! I'm now off to celebrate with a big slab of cake!
With all best wishes,
Dr Will Buckingham || Lookingforwisdom.com
---
---